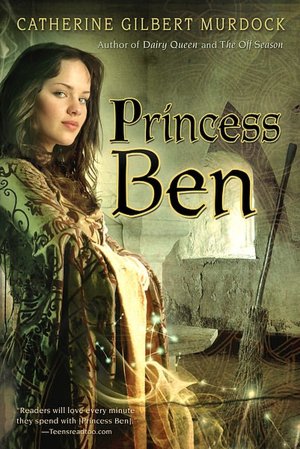 Princess Ben
by Catherine Gilbert Murdock. Houghton Mifflin Company, 2008. 344p. (978-0-618-959716)
The full title is Princess Ben: Being a Wholly Truthful Account of Her Various Discoveries and Misadventures, Recounted to the Best of Her Recollection, in Four Parts. As the subtitle suggests this book is written from the perspective of Princess Ben whose goal in writing the book is to "provide the most accurate chronology" of her life and to correct "the erroneous legends and embroidered falsehoods that to this day expand, heady as yeast, across the land." And thus it begins.
Princess Ben's life dramatically changes when her mom and uncle (who is the king) both die and her father mysteriously disappears without a trace and cannot be found. Queen Sophia, Ben's strict, unpleasant aunt, takes her into the palace and tries to teach her how to be a proper princess. Montagne is a small kingdom protected by very high mountains from the kingdom of Drachensbett (Dragon's bed), a powerful foe who has tried to conquer Montagne, and for the sake of the throne Princess Ben needs to find a prince or other nobleman willing to marry her. Unfortunately, her manners are sorely lacking, she can't dance and she loves rich foods and sweets a bit too much. In desperation Queen Sophia locks Ben into a high tower each night both as punishment for her unwillingness to learn and to prevent anyone from slipping her treats. One night Ben makes a startling discovery and her life is once again significantly altered.
Catherine Gilbert Murdock does an amazing job weaving in bits and pieces of other fairy tales. For instance, Ben meets a peasant boy leading a cow and since she is in need of a mount offers to trade the cow for a handful of green glass bits. When he asks if they're magic she nodded and "wincing, uttered the first lie that entered my head: "They're beans." P "Can I have them all?" he begged. P "Of course." …What became of him, I do not know, but to this day I think of him with gratitude." Do you recognize what story that scene takes place in? Parts of Sleeping Beauty, Cinderella, and Snow White, and references to many other less well known fairy tales are woven into the story.
Princess Ben is written for young adults, but the vocabulary Catherine Gilbert Murdock uses is not often found in YA fiction. I had to look up a definition once or twice. Sometimes the story gets a bit wordy and there are way too many synonyms or inserted comments, but the story is told from Ben's perspective and she inserts her observations and opinions whenever she wants to.
A clean fun read that is not too quick. I enjoyed it and look forward to reading more books by Catherine Gilbert Murdock.