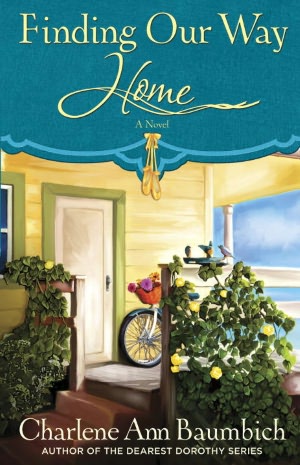 Finding Our Way Home: A Novel
by
Charlene Ann Baumbich
. WaterBrook Press, 2012. 318p. (9780307444738)
I was both excited and tad nervous about reading this as it is my first ARC (advanced readers copy) that I have received from Blogging for Books. It was exciting to get a free book to review in the mail and I was a tad nervous because I wasn't sure if I'd like the story; it's always easier to write about something you like.
Well I needn't have worried. I really enjoyed the story and read it in three sittings over two days. Plus it's fun to read a book that isn't even for sale yet. Went on sale today actually.
Goodreads summary:
When principal ballerina Sasha Davis suffers a career-ending injury at age thirty-eight, she leaves her Boston-based dance company and retreats to the home of her youth in Minnesota. But Sasha's injuries limit her as much as her mother's recent death haunts her. Concluding she can't recover alone, Sasha reluctantly hires a temporary live-in aide.
Enter the übercapable Evelyn Burt. As large-boned as Sasha is delicate, Evelyn is her employer's opposite in every way. Small town to Sasha's urban chic, outgoing to Sasha's iciness, and undaunted where Sasha is hopeless, nineteen-year-old Evelyn is newly engaged and sees the world as one big, shiny opportunity.
Evelyn soon discovers Sasha needs to heal more than bones. Slowly, as the wounds begin to mend and the tables tilt, the two women form an unlikely alliance and discover the astounding power of even the smallest act done in the name of love. Finding Our Way Home is a story of second chances and lavish grace.
My review:
When the summary said it was a story of "second chances and lavish grace" I was expecting it to be a story of God's grace – His saving grace. But it's not, it's a story of the grace people extend to one another and the grace we receive to live another day and find our purpose in life. Not that any of that is bad, I was just expecting a bit more "Christian" book.
The only thing I really didn't like was how much Sasha valued her ballerina snow globe which she called "Our Lady of Dance". Her mother had given it to her as a child and she would touch it before every performance for good luck and to help her perform better.
In the story it's as if Sasha and the snow globe ballerina were mysteriously connected – four times one of the ballerina's appendages mysteriously falls off and each time Sasha also experienced some unusual pain. There are a couple other times the ballerina does something unusual. A bit too superstitious for my liking.
I loved the friendship that forms between Sasha and Evelyn and how much each of them learns throughout the book. This isn't a story just about Sasha, it's also very much about Evelyn. Baumbich did a great job writing Evelyn's character – she loves learning, is cheerful, bouncy, tries to control her tongue, and has a couple life lessons to learn.
I also really like another character – so patient and persevering. But I can't tell you who it is because that would spoil the surprise on page 23. Don't go flipping ahead now!
It's a pretty clean book – although there is some passionate kissing between Evelyn and her fiancé and it's clear that he wants more. But Evelyn stands by her convictions. (Go Evelyn!) And we're told that a married couple enjoy themselves once or twice. Few details are given – just enough to let you know that married lovemaking is very sweet [and is the best kind].
Disclosure: I received this book for free from the publisher through the Blogging for Books book review program. I was not required to write a positive review. The opinions I have expressed are my own. I am disclosing this in accordance with the Federal Trade Commission.