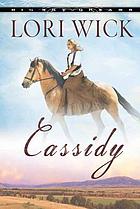 Cassidy
by Lori Wick. Harvest House, 2007. 302p. Series: Big Sky Dreams, #1 (978-0-7369-1618-9)
It's been a while since I've read any of Lori Wick's books, although I love The Princess and Bamboo & Lace, just to name two. I've seen this series on library bookshelves for a while and just never felt like picking it up. Until last Sunday. And then I read it in one day.
Cassidy, is an independent young lady who is making her way in life as the owner of Token Creek Apparel in Montana Territory, 1880. She is a wonderful seamstress, has a great head for business, and does her best to please her customers – even when they are cranky and demanding.
Once a week Cassidy goes to visit her best friend Meg, a rancher's wife, to socialize and sew baby items. Meg and her husband are expecting their first little one in a few months and are worried about the safety of both mother and child. Their fear isn't without reason since lots of women died in childbirth back then, but I thought the fear wasn't very well explained given how much they worried about it. It also made me wonder which way the story would go.
Meg, Brad, and Brad's brother Trace, who lives with them, are like sister and brothers to Cassidy. Not much is said about Cassidy's family and past, since she has only shared her story with two people – Meg and Pastor Rylan. But when someone from her past shows up in town, her world is shaken and life in Token Creek won't ever be the same.
I liked Cassidy, both the book and the woman. Lori Wick does a great job of drawing you into the lives of all the characters, not just the ones I mention above – those are some of the main people, but all the supporting characters are well done. Sometimes when an author includes sermons or Bible verses it comes off stilted, not here. They are a part of the story and help you understand the decisions Cassidy and others make. There is some kissing – mostly between married couples, and it's implied that the couples enjoy each other behind the bedroom door.
If you like clean Christian, historical fiction set in the western frontier in the 1800s or any of Lori Wick's other works then you'll probably enjoy this one.
Disclosure: I borrowed this from my church library.