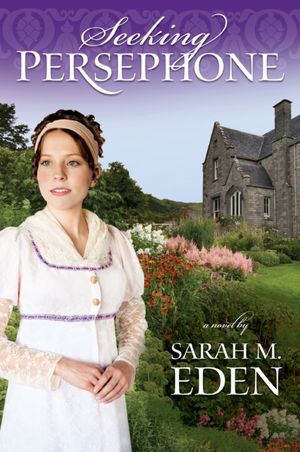 Seeking Persephone
by Sarah M. Eden. Covenant Communications, 2011. 280p. (9781608612819)
Did you know that the Beauty & the Beast story can also be found in Greek mythology? I didn't. Or at least if I did learn that in high school, I forgot. But Sarah M. Eden caught the similarities between the classic fairytale and the myth of
Hades and Persephone
and created a delightful story using a different interpretation of Persephone's motives in the myth.
Seeking Persephone is set in 1805 England. Adam Richard Boyce, Duke of Kielder, Marquess of Kielder, and Earl of Falstone does not have an heir. And he thoroughly despises the heir presumptive, a distant cousin. Adam is very proud of the Kielder estate, the family's 450 year history and does not want to see it fall into the hands of Mr. Hewitt.
His man of business suggests that perhaps he should marry thus providing a way for the estate to stay in the family line. A preposterous and nauseating idea as far as Adam is concerned. He is a proud, angry man who learned at an early age how to make others fear him and do his bidding. Scars from surgeries during his childhood have disfigured the left side of his face and he never expected to marry. And he never wanted to marry, not after watching his parents grow apart as his mother frequently left home to spend time in town.
But perhaps if he found a homely woman of limited means desperate enough to marry him, he wouldn't have to fear her leaving. Unfortunately for him Persephone is not homely, but she is of limited means with few if any prospects and decides to marry the duke so that her many siblings would have a chance at a better life.
She also takes her role as duchess seriously and tries to understand the enigma that is her new husband. He may strike fear into the heart of everyone (with a few exceptions), he may curse up the storm (but not in the presence of a lady) and he may be terribly scarred (in his opinion). But with the help of Harry, Adam's only friend, and her own observations and tenacity she slowly starts to understand her husband. But what will it take for Adam to understand his wife?
I really enjoyed this story. It is clean fiction (just a few kisses) set in a great era (Regency England). It was fun reading the tie-in between the Greek myth and Seeking Persephone. Although the title doesn't quite fit, as the story is told mainly from her perspective and when we read from his perspective it doesn't seem like he's exactly seeking her.
Persephone is a wonderful heroine and her strength of character shines through, but at the same time we are allowed to see her vulnerability. I loved the dialogue between Adam and Harry – Harry is a true friend. I don't expect Sarah Eden to write a sequel, but I'd love to see Harry happily married. (Update 8/27/2013: Obviously I didn't do my homework!
There is a sequel
and it's about Harry! Now to figure out how to get a copy...)
The only thing that didn't quite click with me was how vengeful Mr. Smith was. Sure he was unhappy that the duke closed down his business, but attempted murder? Seemed a bit farfetched to me.
Disclosure: I borrowed this book through ILL.