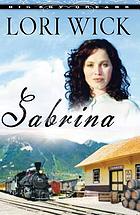 Sabrina
by Lori Wick. Harvest House, 2007. 302p. Series: Big Sky Dreams, #2 (9780736920780)
Last week I read
Cassidy
and liked it so much I immediately went and got the rest of the books in the series from the library. Book two was even better than the first and am looking forward to book three.
The story starts out in Denver, CO and at first I was saddened because I had hoped the stories would continue to take place in Token Creek. Well, I just had to be patient.

Raven is a prostitute. Danny Barshaw is a police officer investigating a murder on the street when he notices the young woman with sad eyes amongst the spectators. After finishing his investigation he takes Sabrina Matthews, known on the street as Raven, by the arm and leads her home to meet his wife Callie.
Danny and Callie are completely unlike anyone Sabrina has ever met. They are kind, loving, are not judging, and they are offering her a chance at a new life:
"I don't know why you're a prostitute – that's not the most important issue here – but I do know it's not a life that will be satisfying to you. No matter what the reason you got involved, it's wrong to sell your body. God has better for you."

Sabrina's heart began to pound at the mention of God. Part of her wanted to run for her life, and part of her couldn't move.

"I don't know what you know about God," Danny continued quietly, "but I can tell you that the Bible calls what you're doing sin. The Bible also says that Christ died for that sin, and if you'll trust in Him to save you, He will." (pg. 9)
He goes on to share several verses from the Bible showing Bri that God does know all of our sins and can create a clean heart in us. Over the next week Bri learns that because of the love God has for her (and everyone else) Christ died on the cross to take the punishment of her sins. Danny also has her read the account of the Samaritan woman at the well (
John 4:1-42 NIV84
) and about the woman caught in adultery (
John 8:1-11 NIV84
).
After a couple weeks of attending church with the Barshaws and reading the Bible, she finally understands and believes the gospel, the good news, that Jesus died on the cross for our sins and rose again.
When men from her past come looking for Raven, Danny and Callie come to the decision that it would be best to send Bri where she wouldn't be haunted by her past. She agrees to their plan and finds herself on a train to Token Creek, Montana Territory with only her bag, her sewing skills, her pluck and a one way ticket back to Denver to fall back on.
I really, really enjoyed this book. A clean read (yep! it's possible to write a clean story about a prostitute!) with a couple of hugs and sweet kisses. It was a great reminder of God's love for us, how dirty our sins are before him, how much He cares for sinners, and how important scripture memory is.
At one point Sabrina is asked why she prays "in the name of the Son." She didn't know the answer but asked another woman who immediately directed her to Colossians 1:7 and explained, "We want to remember when we pray that we need to do it in Christ. His name is everything. … If we can't ask in His Son's name, then something is wrong with what we're praying." (pg.241-242)
These are just characters in a novel, but novels can teach us about truth and remind us of what is important.
What truths have you been reminded of recently?

I borrowed this from my public library.