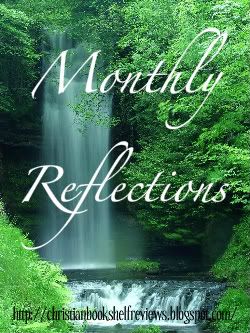 How I fared with my May goals:
I didn't manage to read or review anything for NetGalley and Blogging for Books, but I did review one for Bethany House. Of the eight books I read I reviewed three - so almost half! (Which was my goal.) And I read one non-fiction book (but started two others).
News:
This month has been rather crazy - I think I was only home one weekend. And I got a job! In Africa! As a school librarian! So I'm rather busy getting ready for that. My sincere apologies that this blog will be not be updated as frequently as in the past.
Books I read:
My reviews:
Prize of My Heart
by Lisa Norato
Moonblood
by Anne Elisabeth Stengl
The Messenger
by Siri Mitchell
Memes and other posts:
Quotes to remember
(two quotes from
Moonblood
)
Top Ten Favorite Book Quotes
Book Blogger Hop:
Favorite Book Character
Top Ten Books to Make into a Movie
Pinterest pictures
My June goals:
Write at least four book reviews of which one is for Blogging for Books and one for Netgalley
Finish that B4B book that I've been dragging my feet on
Read two books for the 2014 Winter Olympic Challenge
Read two non-fiction books